How It Works
Quick and Easy — as in 1-2-3
---
You can add a similar chatbot to your website by starting from a ready-made template.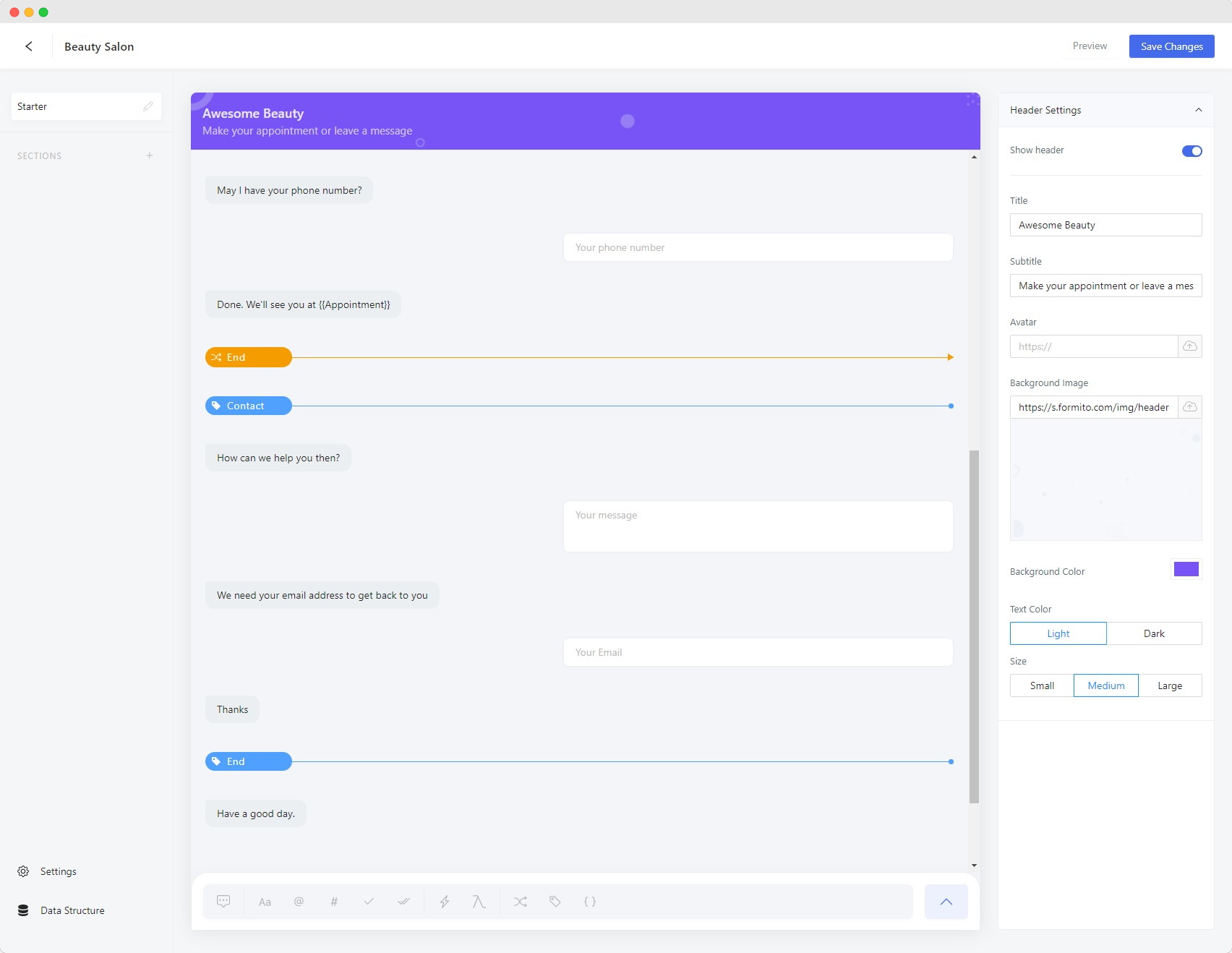 Create Chatbot

Visually build chatbots quickly through an intuitive interface, designed for non-technical people.

Share Widget

Add a code snippet to your site to display launcher, embed in your pages, or share chatbot's url.

Track Results

Browse responses right from your dashboard or save them all in a spreadsheet file format.
Excited to try the builder?
Easy to Make — Click Click
The builder equipped with plenty of design options to present information or accept user input. Also, you can modify the order of conversation with conditional jumps.
Text & Image
Link List
Accordion / FAQ
Social Networks
Conditional Jumps
Short & Long inputs
Email Address
Date & Numbers
Appointment
Single & Multiple Choices
Starter Templates
A selection of pre-designed templates to get started with. Browse to se what is possible with Formito, get inspired, and make it yours.
The one in your left is a template for a real estate agent website. Try it now and browse more.
Browse Templates
Send responses to your favorite tools as data come in
Google Spreadsheets
Automatically sync your responses with a Google sheet as data come in.
Zendesk
Build a help desk chatbot and create a support ticket with your custom fields.
MailChimp
Every captured email addresses appears in your preferred audience list.
Webhooks
Notify your application when someone provides data to your chatbot.
Sign up
Join Formito — It's Free
---
You can stay on free plan forever. Register now and freely try the Pro plan for 14 days.
You can build unlimited chatbots and capture hundreds of responses.