Features
Why Formito?
---
We strive to renovate forms for the new decade. Chat-style forms are just the start.
Renovate
Save some space on your landing page by removing traditional and long forms.
Share Anywhere
Display in a launcher or popup, embed directly inside your page or share a URL.
Powerful Builder
It's not yet another drag and drop builder, our builder is an intention-first editor.
Connect
It works where you work. You can seamlessly integrate your data into popular apps.
Increase Conversion
Proactively reach your potential customers, increase engagement and reduce bounces.
Delight Customers
Let your customers reach out to you anywhere anytime, even when you are sleep.
Capture
Generate Leads
Acquire Customers while you are sleep.
Before you can make the sale, you need to capture the lead. Have a chatbot on your website to proactively initiate a discussion with your visitors to increase engagement and reduce the bounce rate.
Browse Templates
Support
Support Customers
Build stronger relationships with clients.
Connect with your customers and understand their needs better than ever with instant customer support. Place your contact form, FAQs, help center, and ticketing support below their fingertip.
Browse Templates
Feedback
Survey & Feedback
Get to know your business from customers.
Ready-to-use feedback form templates for your website, so you can gather information about your products, company, processes, events, or employees.
Browse Templates
How It Works
Quick and Easy — as in 1-2-3
---
You can add a similar chatbot to your website by starting from a ready-made template.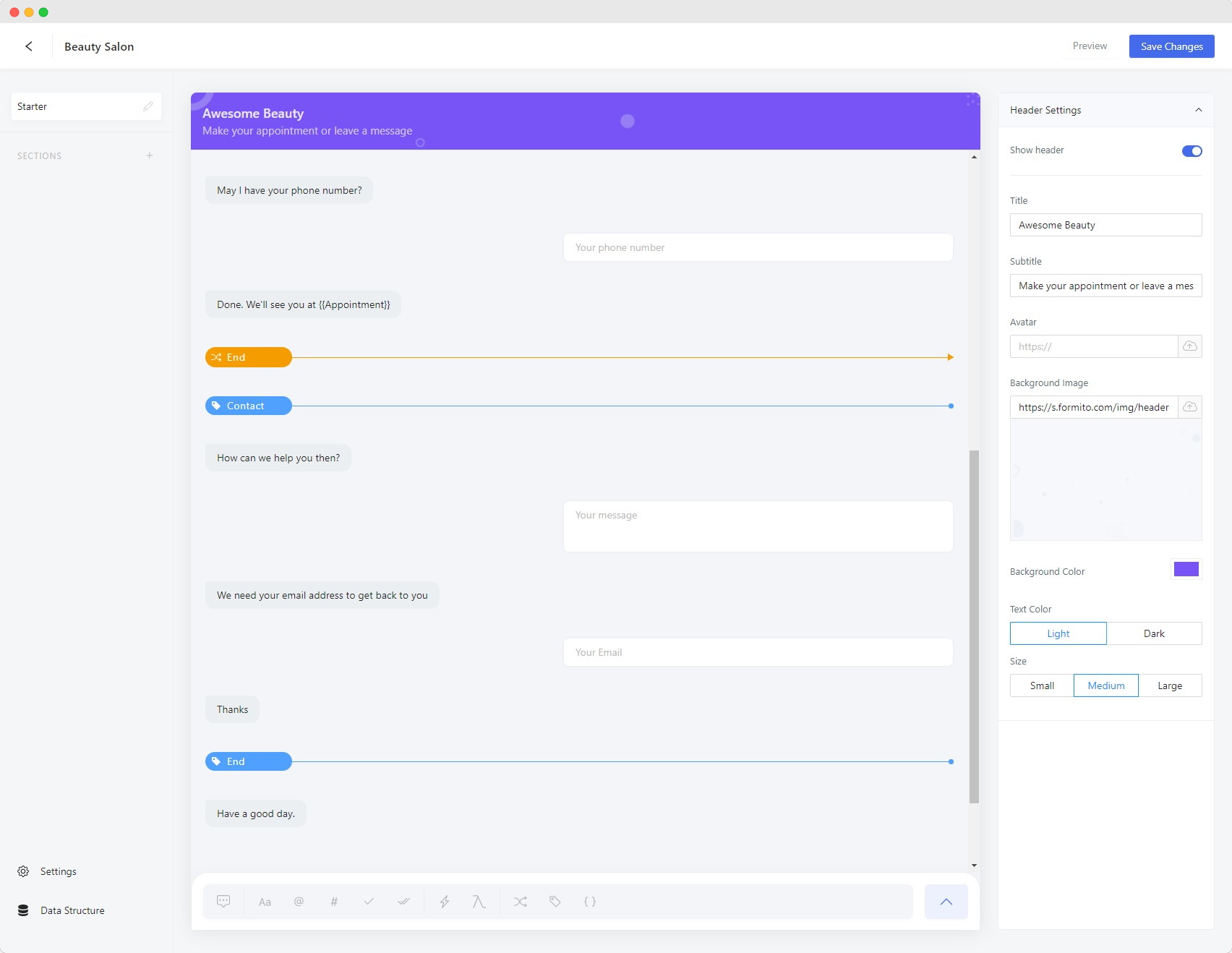 Create Chatbot

Visually build chatbots quickly through an intuitive interface, designed for non-technical people.

Share Widget

Add a code snippet to your site to display launcher, embed in your pages, or share chatbot's url.

Track Results

Browse responses right from your dashboard or save them all in a spreadsheet file format.
Excited to try the builder?
Easy to Make — Click Click
The builder equipped with plenty of design options to present information or accept user input. Also, you can modify the order of conversation with conditional jumps.
Text & Image
Link List
Accordion / FAQ
Actions & Lambdas
Conditional Jumps
Short & Long inputs
Email & Numbers
Date & Time
File upload & Payment
Single & Multiple Choices
Send responses to your favorite tools as data come in
Google Spreadsheets
Automatically sync your responses with a Google sheet as data come in.
Slack
Send a customized message to your Slack channel when you get a response.
Zendesk
Build a help desk chatbot and create a support ticket with your custom fields.
MailChimp
Every captured email addresses appears in your preferred audience list.
Zapier
Connect a Zap to your Formito and run the workflow with collected data.
Webhooks
Notify your application when someone provides data to your chatbot.
Sign up
Join Formito — It's Free
---
Get started for free and upgrade to a paid plan when you're ready,
or stay on the free plan forever.